Coronavirus has become a challenge for humanity and not only in the medical aspect. Democracy, relations, human rights, an established order of life are in jeopardy right now. As human rights defenders we are concerned about what is happening, and we constantly remind that quarantine can be a necessary measure, but human rights is definitely cannot be isolated.
At the time of the epidemic, it is especially important to take fundamental human rights seriously. The fight against coronavirus is not a reason to refuse them. All restrictions that are adopted in different countries should be proportional and limited in time. In Belarus, it's especially relevant to talk about the right to information, the right to work and fair and safety working conditions, and the right to medical care.
To remind everybody about this, we launched the performance #AgainstVirusForRights with Belarusian artists who designed protective mask in their own way reflecting about human rights. These Belarusian artists supported us in this idea: Sergey Shabokhin, Zhanna Gladko, Alexey Lunev, Yana Kuchinskaya, Vladimir Gramovich, Alesya Zhitkevich, Yana Shostak and Marina Naprushkina. Eight artists – eight masks that prevent us from leaving human rights behind.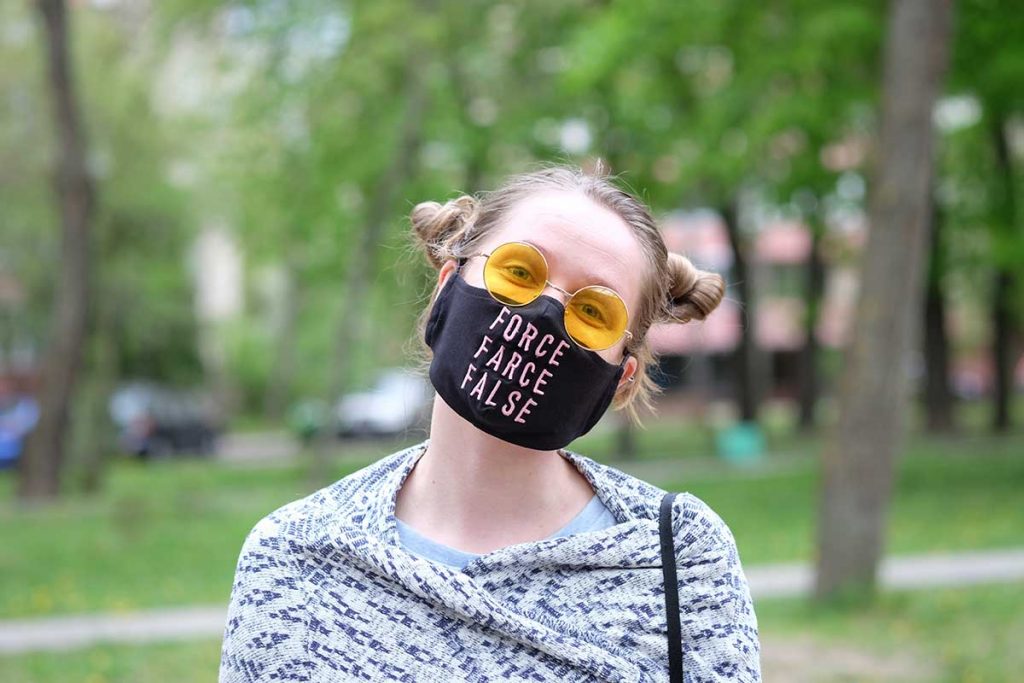 Comment by the artist: "A symbolic dedication to a turning point in the post-truth era, when layering, displacement, devaluation of meanings is a characteristic of the information flow."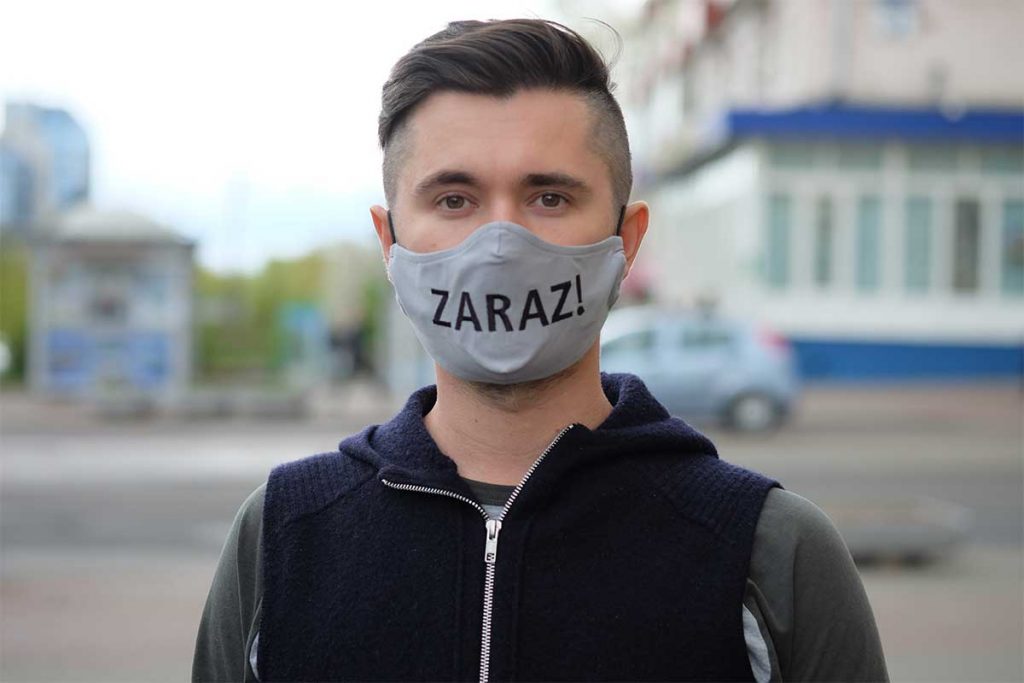 Comment by the artist: "Wordplay: a reference to quarantine and the virus-infected space and the call "ZARAZ!" (eng.: NOW!). We are in times when the past is not interesting and the future is not known. We live in the present here and now (bel. зараз, polsk. Zaraz). This time is full of injustice on the one hand, and hope on the other. And there is a chance to take advantage of the wind of change to develop and promote progressive ideas. It's important to act zaraz!"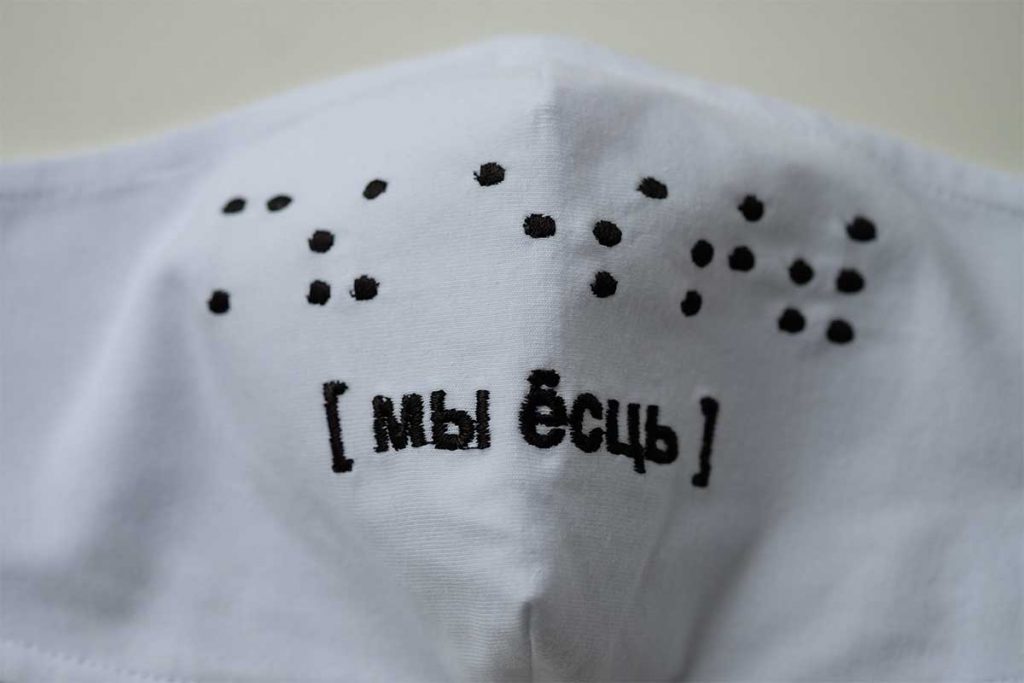 Comment by the artist: "Hugs and tactility during the pandemic have become a luxury for everyone, but for people with vision problems touch is one of the most important means of communication with the world, which has become dangerous to health during the epidemic. We remember those for whom not to touch and not to feel is almost the same as not to see, and for them this time is even more unpredictable and dangerous than for us".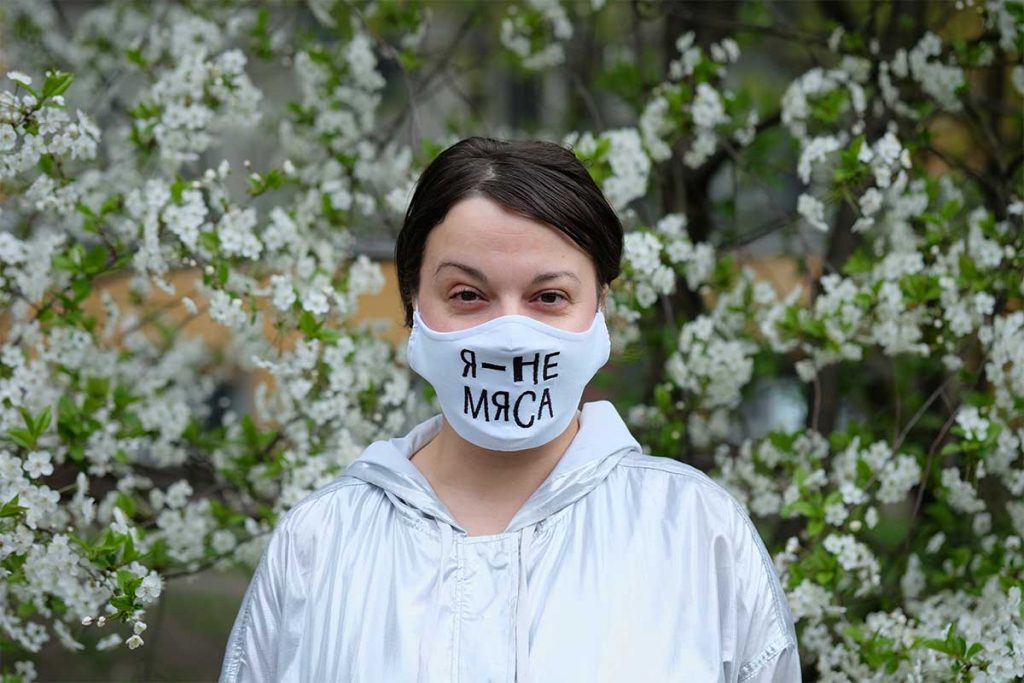 Comment by the artist: "When the first cases of infected people became public in Belarus, but the epidemic added an insignificant number of victims every day, like others, I fell into a panic. Soon, the state decided not to inform its citizens about new cases identified. Anxiety inside the infovacuum grew disproportionately to the current situation. Imagination painted monstrous paintings. Fortunately, common sense has won and information is regularly updated. But the state is undetermined again as long as it cannot find an adequate respectful form of communication with its people. In these conditions, I want to believe that I am not a statistical unit. Each one is unique. The death of anyone is an irreparable loss. I want to know. I have the right to know. I am not meat!"
Comment by the artist: "During the current pandemic, along with the fears about my health, many of my friends and relatives are also concerned about their financial situation more than before. In addition to the obvious will for self-isolation, many of people do not have the possibility to earn money remotely. No. 356-З is the Law of the Republic of Belarus "On labor protection" dated June 23, 2008 which guarantees safe working conditions both in the current situation and in ordinary times. Knowing one's rights and obligations, respecting others, and laws enforcement is everything needed to live in a legal society even during a pandemic".
Comment by the artist: "With coronavirus, censorship has become more visible and has spread throughout the world. Countries began to stick out old unresolved laws to divert attention. This method was used by Poland, returning to the postponed issue of a complete ban on abortion including the cases of threat to mother's life of sexual abuse pregnancy. The red arrow is a symbol of the struggle for choice in difficult situations. Personally, I am against abortion, but I am fighting for everyone's right to make their own decisions in difficult situations".
Comment by the artist: "A reference to silent protests in Minsk. Now, in addition to the protest gesture, clapping hands have a different connotation – thanks to the work of doctors and social workers, volunteers. Clapping hands in the context of Belarus are the way of speaking under control, a method of allegory. In the universal plan – a gesture of gratitude, solidarity and humanity".
Comment by the artist: "Say no to discrimination, say no to the virus. Wear a mask".
To remind of this, we sent masks to different people who wanted to support the event, and asked them to put a photo in a mask on social networks with the hashtag #AgainstVirusForTheRights. We hope that this performance will attract attention and initiate a discussion about human rights in Belarusian society during the epidemic.