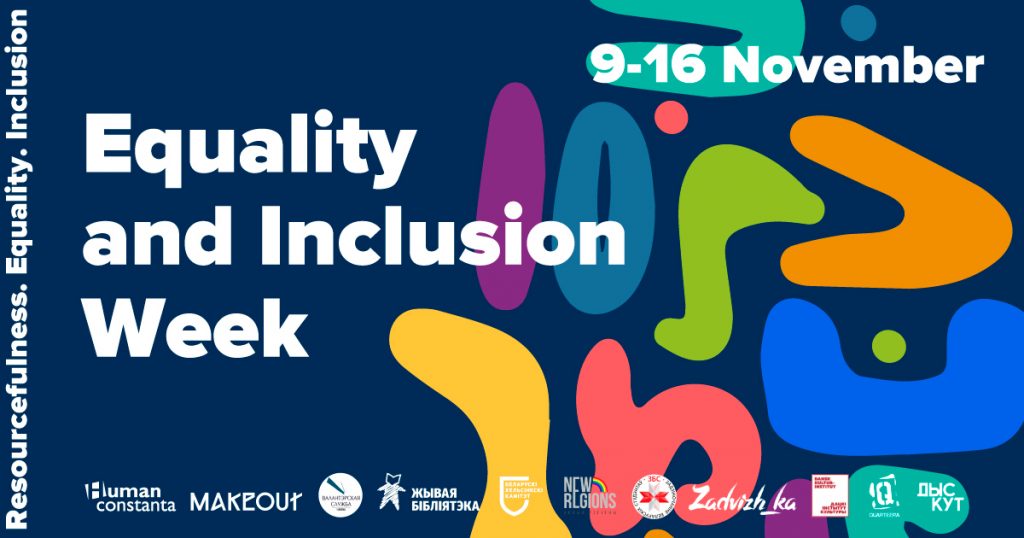 For a number of years now, from 9 November (the anniversary of Kristallnacht, the symbol of the beginning of the tragedy of the Holocaust) to 16 November (International Day of Tolerance), the Human Constanta team, together with other human rights and non-profit organisations, has been running an Awareness Week against Discrimination and Hate*.
This November, it seems more important than ever for us to hold a Week for Equality and Inclusion under the slogan "Resourcefulness. Equality. Inclusion." Equality and inclusion can be resourceful. Equality and inclusion need resourcefulness. We really want this Week to feed us all with positive emotions, positive stories, inspiring examples and successful cases, so we invite everyone to remember and broadcast supportive and warming moments on this topic.
We invite you to the events of the Week for Equality and Inclusion. Most of the events will take place online and will be accessible to people from all cities! Throughout the Week, we're calling you:
November 9 (Tuesday) 19:00 – online lecture "How to protect your boundaries with self-care when you are discriminated against" by Oli Lanevska – feminist and WenDo self-defence and assertiveness trainer. During the meeting we will discuss what "my psychological boundaries" are and how understanding personal boundaries helps us to make decisions that help improve our inner state in situations of discriminatory behaviour in our direction. Also, we will discuss in theory and practice the passive, aggressive and assertive forms of interaction with others. The workshop will deal with the topic of self-care in dealing with toxic people, and will draw attention to our capacity to respond successfully to discriminatory behaviour towards us. Register at: https://forms.gle/roh6tmSsxQY3Uznt7
November 9 (Tuesday) 19:00 – Online opening of the Festival of Gender Equality with a discussion on 'Voices of Violence'. Read more at: https://fb.me/e/1P3xtrzBl
November 10 (Wednesday) 19:00 – Online training "Nonviolent Communication: A Brief Overview of Theory and Practice. How awareness of our needs leads to a better understanding of ourselves and each other".
Nonviolent communication is a more caring and constructive way of expressing our perception of what is going on, which allows us to successfully negotiate with each other and see that we have much more in common than meets the eye.
In this webinar with Kirill, the rationality coach, we will not only learn about this method of communication, but also use personal examples to figure out how to use it.
November 11th (Thursday) 19:00 – Interactive lecture "LGBTQ&A: Examples from the LGBTQ+ situation in Germany and the former Soviet Union" with Vanja Kilber, co-founder of Quarteera, the Russian LGBTQ+ organization in Germany.
Did there used to be so many non-heterosexual people too, or is this a new age phenomenon? What is the difference between bi and pansexuality? Why is the expression "white heterosexual man" needed? What is gender panic? And who invented gender in the first place? To these and (any) other questions, we seek an answer together at the interactive lecture "LGBTQ&A". Registration is at https://forms.gle/roh6tmSsxQY3Uznt7.
November 12 (Friday) 18:30 – offline training from Vitebsk team Zadvizh_ka "How we (do not) cope". The training will help to develop self-help skills. Registration is at: https://forms.gle/P9EHRZZzEePPbdDV9
November 13 (Saturday) 19:30 – MAKEOUT team invites to an online screening and discussion on "The history of homophobia: tradition or innovation?".
We will discuss why homophobia and misogyny have similar patriarchal roots and how the Soviet Union was at one point the most progressive country in the world in terms of sexual and gender laws (this is not irony, this is historical fact). It's also about the importance of keeping an eye on who puts what ideas in your head, and why, in times of post-modernity. Register at: https://forms.gle/rjGoBNQqC6ygM5kL7
14 November (Sunday) 19:30 – Online lecture "The role of the LGBT+ community in the antifascist resistance in the 1940s".
The MAKEOUT LGBT+ Project invites you to learn about the biographies of LGBT+ people who became key figures in the resistance during the war years, to talk about why we need historical memory and to consider why the history of repression can also be a resource for us in difficult times. Register at: https://forms.gle/rjGoBNQqC6ygM5kL7
15 November (Monday) 19:00 – Human Constanta online team takes part in a special edition of the DysKUT debate on "Should EU countries let in migrants who travel through Belarus?". You can watch it after registering at the link: https://forms.gle/roh6tmSsxQY3Uznt7
16 November (Tuesday) 19.30 – LGBT+ project MAKEOUT calls for an online screening and discussion of "The Council". An investigation into the activities of ultraconservative forces in Belarus.
The documentary "The Council" tells the story of who is behind ultraconservative organisations and traces the connection between the Belarusan movement and the global trend towards a revival of right-wing values. Register at: https://forms.gle/rjGoBNQqC6ygM5kL7
Don't miss other activities
But that's not all! We've put together a series of special editions of our podcast, The Humana Show, and have some very cool guests who will share their inspiring stories! To make sure you don't miss an episode, subscribe to our podcast now on the platform where you listen to podcasts: https://podcast.ru/1522908486
What can you personally do to contribute to the topic?
Join an instagram flash mob with posts/stories about people (historical and living) who have done a lot on the topic of equality/inclusion, advocacy in your field, who you admire and are inspired by. That way we can reach more people together and tell them about the people who change the world and inspire! Please tag your posts with the hashtags #YanyZmagli #TheyCan #RoznyaRozwny. And don't forget to tag us @roznyjarounyja.
This time the Week is supported by the Belarusian Helsinki Committee, Danish Cultural Institute, Coalition of Students Association ZBS, Belarusian feminist anti-discrimination project MAKEOUT, civic initiative Zadvizh_ka, initiative "New Regions", Youth Debates DysKUT, community " Human Library", volunteer service "Spring", Russian-speaking LGBTIQ organisation in Germany "Quarteera" and others.
*International Week of Educational Action against Discrimination and Hate is initiated by the European Coalition against Nationalism, Racism, Fascism and in Support of Migrants and Refugees "United".